Part 1
Part 2
Part 3
Part 4
Part 5
Part 1
Captain Knob Dog – The Story Begins
"Get a dog they said, it'll be fun they said…", I feel like this should be catchphrase of mine!
Welcome to the world of Captain Knob Dog and her trusty side kick – Sergeant Dick Head (for the un-initiated that would be our stars of the show: Nola the Border Collier and Paul the, erm… Poo picker-upper-er).

SO… Who Am I, who are we? Why am I here? Who is Nola and who is Captain Knob Dog?
This blog is a celebration of the who, what, when, where and why of my life with my Bestie: Nola (AKA Captain Knob Dog).
I'm not very good at linear time lines, I prefer a more frenetic approach to most things in life, so please bare with as you're taken on a journey that's probably back to front. I originally planned to write this as a documentary of how we got to today, then blogging our future escapades and endeavours – but id prefer to do things on the fly and see what's what as we go.
So, Who am I?  Why am I relevant to this story?:
I'm Paul, Late 30's, loves steak and BBQ's and long walks on the beach… and would just love to meet you…. Sorry – though I was on Plenty of Fish for a moment!.
I'm no kid anymore, I'm old enough to know better then to lick batteries, grew up around dogs, specifically rescue JRT's – it always shocked me how many people found these dogs hard work cause they were so easy to live with – but then I was a Kid, Dad did all the work, my responsibilities ended at not letting them run out through the front door, so yeah for me, they were easy!!!.
Fast forward a few years and my Partner and I started dating, when we met she already had Kalel, a Northern Inuit, she had already put months into training this gentle giant who just wanted to be friends with everyone and everything. So yeah, my history with dogs was fairly easy – I defo thought I had an affinity with animals….how wrong was I!!!.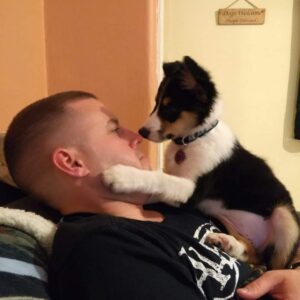 Fast forward a few more years, I left a job of over 12 years service where I was totally in my comfort zone, started a new high pressure job, then during the pandemic the company started a new company in the middle of Covid – that's right, we started a new company in a global crisis (Bonus point – we survived). My partner and I moved house, so in the midst of a pandemic, the stressors of the world, life, employment and new home we decided it was the perfect time to get a puppy!!! (Yay!!!).
Side note – we never planned to get a puppy, we never planned to get a border Collie – life just happened to throw us all in the mix, a friend was sent pictures of some border collie pups at just 4 hours old…. For those of you who know me you know what happened – I jumped in with both feet.
So Who is Nola?
I wanted to write a brief on Nola, I wanted to write so many things but decided against it, I think we'll get to know more about Nola as this blog goes on so instead I thought id write about how Nola came into the world.
At 10:23am on 9th May 2020 Nola was born. They were only expecting 5 pups, so after the fifth they thought "Cleo" was done – Nope not quite, Nola's inactive body was helped from Cleo, she was alive (barely). Nola at half the size of the rest of the litter was teeny tiny – no one expected her to make it. (For those in the know the red flags probably start waving, setting of flares and shouting out loud at this point). Nola was too small to feed from mum, what she could get wasn't enough, she wasn't big enough, wasn't strong enough to get to mum and feed as well as she needed, she was only gaining weight from the syringe feeding. At 7 days old we visited, Nola was clearly not like the others, too small, weak – almost sickly. We asked about her and they were very honest, they told us straight – she might not make it, they didn't think anyone would pick her….. Well say hell to Paul – I like an underdog, show me someone who needs a lift or a helping hand and I'm there. Before we left we'd paid, named her and arranged to drop of some belongings to get Mums scent.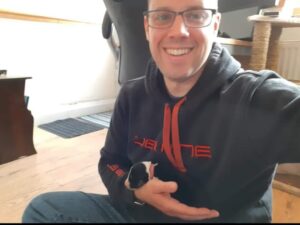 At the time I was naïve, unknowing. I didn't realise how important the first 8 weeks of life were, I didn't realise Nola would forever be missing the first 4 weeks entirely and the following 4 she would forever be playing catch up. During her first 8 weeks of life she never caught up to her litter mates, every time we saw her or videos she just doesn't seem part of the pack.
If I knew then what I know now would we still have picked her? 100% yes. I love an underdog and this underdog has taught me more about myself then I ever thought possible.
Part 2
Part 3
Part 4
Part 5